Liverpool vs Tottenham play tonight in Premier League. If I had said Tottenham will be sitting at the top of the Premier League at the end of matchday 12, you would have called me overly optimistic or a fool. But Jose Mourinho's Tottenham squandered every doubt and now sits alongside reigning champion Liverpool at the top with 25 points each. In the last 3 years, Premier League never looked more open and Jose grabbed the opportunity by the neck and somehow made it believable that his team can go all the way to win the title. It's almost Christmas and things will look extremely good for Tottenham if they beat Liverpool tonight.
Read More: The Alternate Fan Based Ballon d'Or Dream Team 2020
There is something enthralling about Jose Mourinho in the 24 hours before a big game. He is pure box office. Premier League is blessed to have that box office as they are on their way to dominate over the Spanish league in terms of quality of football and entertainment. After the Messi and Ronaldo blockbuster era, things look damp for the Spanish League. While Premier League is bringing in the best of the best.
Jose Mourinho coming back to Premier League is a blessing for England, Tottenham, and overall for the entertainment. His pre-match media briefing ahead of Wednesday's crunch clash against Liverpool had everyone gripped. Vintage Mourinho took on his direct rival Jurgen Klopp in the press conference.
This match could essentially give them the boost to win the league as they will be beating the heavyweight title contender. Liverpool is injury-plagued and not operating at full squad strength this season. But Jurgen Klopp built a system and a style of play at Liverpool capable of cashing in without any problem. But to the surprise, they are without a win in their last two matches. After a controversial draw against Fulham, Liverpool will be alarmed for this match.
---
You might like:
---
While Tottenham also drew their last match against Crystal Palace. So both the team will be sniffing a win at Anfield. Anfield is like the impregnable fortress in Premier League. Tottenham will have to work a lot harder to get a W here.
Their work has already started. Jose Mourinho laid the brickworks for their road to Anfield. The manager who got inside the head of Pep Guardiola and his ruthless Barcelona; is sprinkling some of his old swag. This time he is humble but as the press conference went on his words started to do their job.
When asked about his preparation and his sporting project at Tottenham he said, "We are a good team that works hard but Liverpool is the result of, if I'm not wrong, 1,894 days of work with Jurgen Klopp."
"And we are the work of 390 days. But these 390 days are fake because lots of these days were not even days of work — they were days of quarantine, being at home unable to work."
He drew parallels but precisely went sideways as he wanted to.
"So, from almost 2,000 to 300, for us to be able to compete at the level we are doing, I can only give credit to the players and be very happy with what they are doing."
Had the calculator out, Jose? But beyond the maths, the message was clear: Tottenham shouldn't be competing on the same level as Liverpool — but apparently, they are. They are as ruthless as you could expect from a Jose Mourinho team. He was not even shied away from parking the bus when they were determined to take a lead or a draw home. Their intent is clear. They don't care about the style of beautiful football. They are here to win.
It is a compelling argument. Avoid defeat on Wednesday and Spurs will maintain their position ahead of the reigning champions in the Premier League table.
That is not to say the Spurs boss was at all disrespectful towards Klopp and Liverpool brigade. It was quite far from it.
The Portuguese said, "I believe that for a team to achieve what Liverpool have achieved already and what more they keep trying to achieve, the work has to be perfect. Everything they do, they do very, very well. I think it's very close to perfection."
But Vintage Jose just couldn't hold back.
Jose raised questions over the integrity of the league because fans are allowed into Anfield but not Tottenham following London's transition into Tier 3 COVID lockdown.
When asked about Liverpool's injury crisis, he refused to believe that Liverpool was in any crisis. He said the only player whose absence could affect Liverpool would be none other than Virgil Van Dijk. Otherwise, they have the same best squad they had last season.
---
Also Read:
---
History tells us Mourinho is not known for his one-club longevity. He comes he wins and he leaves. His 2nd season record at clubs is astonishing. He either finished at 2nd or went on to win the league in his 2nd season at every club he managed.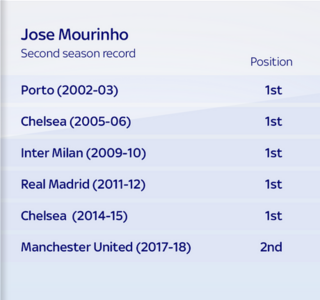 "We did it at Porto, Inter, Real Madrid, at Chelsea both times, we did it without the need of that longevity." – Mourinho said.
But the man himself has hinted that Spurs could be the one that sticks.
"Now at Tottenham, I know the profile of the job that I have in hand and until now I am enjoying it very, very much to be at the club."
"I believe that the club structure is also happy to work with me, so I see myself staying for a long time." – Jose looks optimistic. If he could lead Tottenham to their first Premier League title, he will be the Messiah of White Hart Lane.
He also expressed his regret at his last managerial job at Manchester United.
"The first club where I felt I needed time and time was not given was at Manchester United. Because I felt that I left in the middle of the process."
Jose and Manchester United was the least successful pairing in his career. Despite winning Europa League and FA Cup with them, his last days at Old Trafford were bitter.
---
---
More news from Anuran Haloi