Very few people from mainstream English journalism follow La Liga in-depth and gets excited about an underdog coach joining an underdog club. On 4 January 2021 when Marcelino García Toral joined Athletic Club Bilbao it didn't make the headlines. But when words got out and people got to know about Bilbao's new managerial signing, they got excited about it. Why is it so? Why Marcelino's return to the Spanish Top Divison is so significant? Why is he so highly regarded? Why Sergio Ramos came to greet Marcelino after Bilbao defeated Real Madrid in the semi-final of Supercopa de España? While the whole team was celebrating, Marcelino and Ramos shared a conversation. Managers like Marcelino or Jose Bordalas is so highly respected in the managerial circuit of Spanish Football. We often hear that German coaches are tactically very advanced and flamboyant. But in Spain, these generations of footballing brains are making it big in European football. Marcelino is one such highly regarded manager. He is one of those managers that Spanish football will closely follow in recent times because of the reputation and footballing identity he carries.
Read More: Hazard-Asensio? The Start of Something Special In Real Madrid
Who is Marcelino?
---
A former player Spanish who played as an attacking midfielder for Spanish Junior teams and played in the teams like Sporting Gijon, Racing Santander, Levante, and Elche. He began his managerial journey back in 1997 with CD Lealtad. He is one of those players who was immensely hardworking but never made it to the Spanish National team. In the low and midtable teams, he played some interesting football. He was not someone with a rich footballing pedigree. But he was somewhat a manager of the underdog from the beginning of his career. He helped Recreativo de Huelva to promotion in his first season and a comfortable mid-table position in the top tier in the following, which made him the recipient of his first Miguel Muñoz Trophy back in 2006. It was a great underdog story and Miguel Munoz Trophy, which is given to the best manager of the season brought Marcelino to fame. Marcelino resigned at the end of the season and took over at former club Racing Santander, leading the Cantabrians to a best-ever sixth-place finish, with the subsequent qualification to the UEFA Cup. Another Underdog story.
The Rise of Marcelino- The Underdog
---
Marcelino was on the rise. Spanish football had kept a close eye on him. He wanted to do something more challenging. Some called it a downslope for his career but he took a new challenge. on 29 May 2008, he returned to division two and joined Real Zaragoza with the objective of a promotion, which was finally achieved in 2009. In the process of signing with Zaragoza, he had rejected Valencia CF, and became the country's best-paid manager at €2.4 million per year following the departure of Real Madrid's Bernd Schuster. Marcelino was a hot pie at that time. Real Madrid was linked to him before they went on to sign Jose Mourinho. Interestingly when Zidane left after his glorious first spell, Marcelino again got under the radar of Los Blancos. But eventually, they signed Julen Loputegi. It was an interesting cross junction of Marcelino and Real Madrid. Some still believe he will eventually coach Los Blancos one day. Ramos and his picture after the Supercopa De España sparked great interest.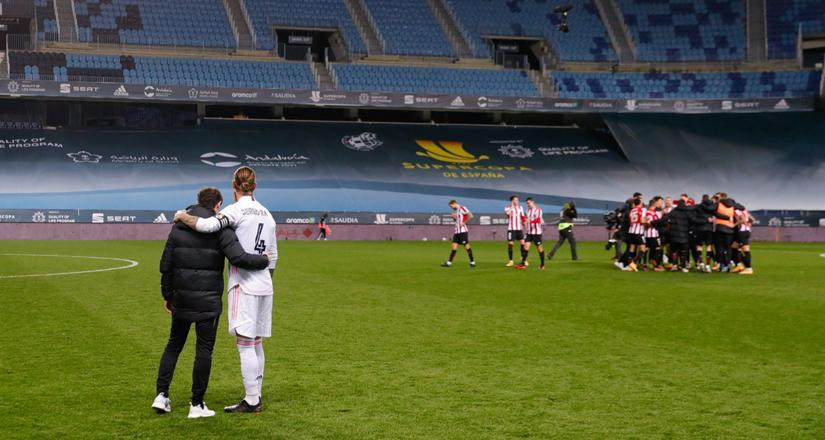 Success Followed Marcelino
---
After a turbulent time from 2009 to 2012 with different clubs, Marcelino signed for Villarreal on 14 January 2013, again with the objective of returning the team to the top division at the end of the campaign. With Villareal, Marcelino experienced prolonged success. After Villarreal's promotion to the top division, they subsequently achieve three top-six finishes. In the 2015-16 season Marcelino's team was one of the brightest prospects of Spanish football. Estadio de la Cerámica was turning out to be a fortress in Spain. Marcelino's stint included a fourth-place finish in the league and a semi-final run in the UEFA Europa League in 2015–16. The sporting identity of Villareal was rebuilt in his time as a manager there. One of the most prestigious clubs in Spain was rebuilt under the leadership of Marcelino. Marcelino boasted another great story in his career.
But he was sacked in 2016 for differences with the board of directors. He joined Valencia and again played the brand of football he was known for; attacking and intelligent football. In 2019 Marcelino won the Copa del Rey in his second season at the Mestalla Stadium, defeating FC Barcelona 2–1. It was a shock defeat for Barcelona and the whole of Europe hailed Marcelino for his brilliance and killer instinct in the final. They scored two early goals with brilliant efficiency and put Barcelona under pressure right from the beginning. His team was very disciplined throughtout the season. He is known for his assertiveness in clubs. His brand of football is very effective. His team is not exactly a counter-pressing team but an effectively pressing team. He has a tactical understanding of the flaws and weaknesses of the opposition. He knows how to exploit them.
The Giant Killer
---
The 51-year-old has been without a club since September 2019. But Athletic Bilbao took their chances and signed him. He was heavily linked with Everton, AC Milan, and Arsenal last summer. Marcelino returned to football as Gaizka Garitano's successor at San Mames. Garitano's team is already well drilled and well oiled. A fresh new approach and a rejuvenated Bilbao would be an exciting watch in La Liga.
Marcelino beat Real Madrid in only his second game in charge of Athletic Bilbao and clinched a place in the final of the Spanish Super Cup, against Barcelona on Sunday.
He has made a habit of beating Real Madrid in his coaching career. He shot to fame when his unfancied Recreativo Huelva side won 3-0 at the Bernabeu Stadium in 2006. It was a glorious night for Huelva at the Bernabeu. Marcelino has beaten them with Villareal and Valencia, and, now, after toppling Zinedine Zidane's side in the Super Cup.
"It would be wonderful to win this title,' said Marcelino after the victory against Zidane's Real. 'It's time to recover and then go with maximum conviction, this result will serve to increase the confidence and self-esteem of the players and progressively better performance."
The Giant killer Marcelino is one of those coaches who is not afraid of risks. He might suffer in his early games of the season. But he will play an exciting and attractive brand of football for sure. Ernesto Valverde is a parallel of Marcelino. Given the resources, he could do wonders. Despite an ever-conflicting board and a deteriorating dressing room at Barcelona, Valverde delivered two consecutive La Liga title for them. Marcelino is one such coach whose career trajectory is destined to land him in a big club somewhere down the line of his career.
---
---
More news from Anuran Haloi