It's 2020 now and Real Madrid has failed to reach the quarter-finals of the Champions League two times in a row and is even unsure of qualifying into the round of 16 this season. However, things were the complete opposite just a few years back.
Who are the kings of Europe? If you ask someone this question, chances are that 8 out of 10 people will have Real Madrid in their minds, even if they have failed to qualify for the quarter-finals for the past two seasons. Such is the legacy of Real Madrid and its unimaginable tale of winning three Champions League titles in a row.
What did Real Madrid have that all the other clubs wish that they had. How did they manage to do this? Let's focus on some of the points that were key to the most one-sided domination of European football.
---
Read more: Kane and Son are the Ronaldo-Benzema pair of the Premier League.
---
"The Luck Factor"
The most popular explanation of Real's dominance over the European stage is surprisingly that of luck. "Real Madrid were just lucky" is the most common expression that most of the pundits seem to have for this feat.
Luck is a part and parcel of every team's success and failure. However, claiming that a successful campaign was purely based on luck is utter nonsense. If they mean to say that Real Madrid was luckier than other sides, the fact that Real Madrid has also won much more should also come into contention. The luck is certainly less in proportion than the achievement of the team.
---
Zizou factor
The most underappreciated factor of this huge achievement is probably the role of Zinedine Zidane as the manager of the side. Zidane has made some huge and pragmatic changes to the club which rarely gets noticed by the mainstream media.
Zidane hired Antonio Pintus from Lyon as the fitness coach of Real Madrid. Pintus was the same person under whom Juventus had reached three consecutive Champions League finals from 1995-1998.
Zidane greatly emphasizes the need for running in a match, stating that the team that runs the most will benefit the most. The Real Madrid manager used only 14 players in almost 60 percent of the entire 20000 minutes that his team played between 2015 and 2018. Six of those 14 players played more than half of those minutes despite having international breaks. All these were achieved by the hiring of a fitness coach by Zidane.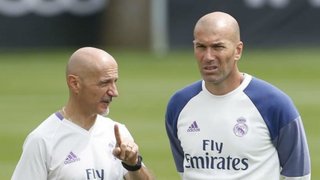 Picture- Antonio Pintus with Zinedine Zidane
---
Underappreciated achievements of Zidane
Zidane's first Champions League victory was against Roma in their home stadium. He won the match 2-0. This was Real Madrid's first win on Italian soil in eight years. The victory was the first since 1988 when Madrid had beaten an Italian side in the Champions League knockouts.
Their comeback against Wolfsburg in the quarter-finals was their first comeback since 2002. Both of these matches were Zidane's first and second in the competition.
Before Zidane, Real Madrid had won just 2 matches out of their last 26 meetings against German sides. Under Zidane, Madrid won 6 games and lost just one out of 10 games against German sides including six wins in a row against Bayern Munich.
Real Madrid's 13th Champions League title was against Juventus in Turin, it was their first win in Turin since the 1960s.
---
Impeccable away record
Winning away against big teams is not a piece of cake, especially if the match is one of a high stake. Ask Barcelona in recent times. But the Real Madrid side under Zidane seems to have mastered the art of winning away.
Against Bayern Munich Ronaldo's brace ended Munich's 16 game win streak at the Allianz Arena. The away win against Juventus also ended Juve's 27 matches unbeaten streak.
In 18 Champions League away games over the course of three years, real Madrid has lost only three times, winning 11 games in the process. It is a record that is one of its kind.
Playing the 2nd leg at home gives you an undeniable advantage but being ruthless in the away 1st leg makes you unbeatable.
---
The 2017-18 season- " The Jewel in the crown"
In the 2016-17 season, ie in the year of Real winning their second consecutive title, real Madrid was the best side in Europe. They had scored in 73 consecutive games and were unbeaten for 49 games. Real had a tough path to the glory that season and had to get past teams such as Borussia Dortmund, Napoli, Bayern Munich, Athletico Madrid, and an in-form Juventus side in the finals.
In the following season, however, the kings were far from their best and were showing signs of burnout. But Real Madrid had made out a habit of winning, that's what made them the kings of Europe.
Real Madrid followed a few simple principles such as
Outworking their opponents in each match

Relentless and terrifying ruthlessness in big away matches

Having the mentality of kings
That season real Madrid had the toughest road to victory. They defeated the likes of Dortmund, Tottenham, PSG, Juventus, Bayern, and Liverpool.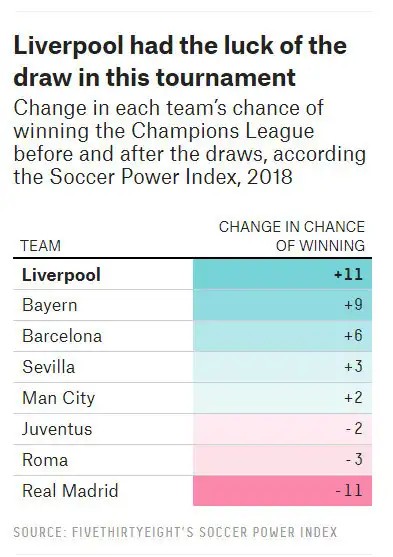 Despite having such awful odds, Real Madrid did what kings do which is win.
---
No matter what happens this season or in many seasons to come, Real Madrid will always be the Undisputable Kings of Europe.
---
---
More news from Abhiraj Dhar