France Football named their best XI of all time in place of Ballon d'Or award this year. Because of the COVID-19 Pandemic, France Football decided to scrap the Ballon d'Or ceremony this year. This year's selected Dream Team created enough buzz to lead to arguments and disagreements. After a shortlist was drawn up by France Football, 140 journalists from around the world voted on the players which made the Dream Team.
Read More: The Wizard of AMS or The Wizard of Stamford Bridge- Hakim Ziyech
First Team: Gold Team:
Yashin, Cafu, Beckenbauer, Maldini, Matthaus, Xavi, Maradona, Pele, Cristiano Ronaldo, Messi, Ronaldo Nazario.
---
Second Team: Silver Team:
Buffon, Carlos Alberto, Baresi, Roberto Carlos, Pirlo, Rijkaard, Zidane, Di Stefano, Garrincha, Ronaldinho, Cruyff.
---
Thrid Team: Bronze Team:
Neuer, Lahm, Sergio Ramos, Breitner, Neeskens, Didi, Platini, Iniesta, Henry, Best, Van Basten.
---
A fan Dream XI is an exciting exercise to do. Every time an official dream XI comes up people always disagree in some positions and with some players. So, this is my imaginative Dream Team with the players that were left out of all the three podium Dream XI. Yours could be different. But believe me, this is a fun exercise. The year is ending and now is a great time to pick up a pen and piece of paper and make your own dream XI.
This is my Alternate Ballon d'Or Dream Team that I think could easily challenge the Official Ballon d'Or Dream Team.
---
Formation: 4-3-3
Goal Keeper: Iker Casillas: When I saw the list, I immediately looked for my favorite goalkeeper in the whole world Iker Casillas in the lineup. But to my dismay, Iker Casillas was not on the list. The world Cup winner, 2 times Euro Winner, and 3 times Champions League winner should have been there. San Iker is the most humble man and will be the Captain of my team.
Defenders:
RB - Dani Alves: The most decorated player in football history with 41 trophies, Dani Alves is easily one of the greatest Right Backs of all time.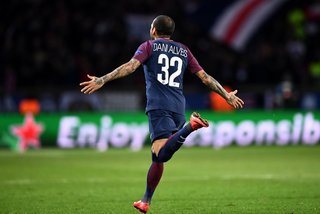 CB - Carles Puyol: Another defender who has won all there is to win, Puyol was the lionhearted backbone of the world-conquering Spain and Barcelona.
CB - Fabio Cannavaro: Cannavaro led Italy to victory in the 2006 FIFA World Cup in Germany, and was given the nickname "Il Muro di Berlino" ("The Berlin Wall"). The 2006 Ballon d'Or winner definitely enters my team.
LB - Ashley Cole: Another excellent full-back edged out of the equation. From Arsenal's invincible era to Chelsea's golden generation; Cole was considered among the best in Premier League.
---
You might like:
---
Midfielders:
DMF - Luka Modric: The only man not named Lionel or Cristiano to win the Ballon d'Or in the past 12 years, Modric is a fighter. For all his life he proved everyone wrong. From being the worst Real Madrid summer transfer to mesmerizing the world, Modric rules my heart. I won't lie I was hurt not to see him in the Dream Team.
AMF - Ricardo Kaka: The last player to win the Ballon d'Or (in 2008) before the glorious age of Messi and Ronaldo swept in, Kaka was an unstoppable force in Milan. If not for his injuries he was destined to win more. But despite his injury-prone career, he won everything there is to win for a player including the FIFA World Cup in 2002.
AMF - Michael Laudrup: I had to drop Ballon d'Or winner Pavel Nedved for Laudrup. It just because he was a member of Johan Cruyff's "Dream Team" at Barcelona, where he won nine trophies, including four successive La Liga titles from 1991 to 1994 and the European Cup in 1992.
Forwards:
LF - Alessandro Del Piero: Quite possibly the most naturally silky forward we've ever had the pleasure to witness, World Cup winner Del Piero will forever be synonymous with the white and black stripes of Bianconeri.
ST - Raúl González: One of the most gifted natural strikers to have ever graced the game. But sadly the closest Raul ever got to winning the Ballon d'Or was finishing second behind Michael Owen in 2001. He is Real Madrid's second all-time top goalscorer with 323 goals.
RF - Samuel Eto'o: The two-time treble winner but with two different teams (Inter Milan and Barcelona), Eto'o was a different beast altogether in his prime. He is an energetic, fast, and extremely hardworking player. I would take him in a heartbeat.
Manager: Jose Mourinho
---
---
More news from Anuran Haloi