The German Coaching School have been exploding in European Football. It's not just hyped anymore. When Jurgen Klopp won the Champions League with Liverpool and won their first Premier League title in history; the hype surrounding the German coach turned into a statement of purpose.
The footballing identity of modern eras are very distinct. For a millennial to analyze them is actually a fun exercise that could be backed by a huge load of statistical data. Which makes it all more fun.
Read More: Marcelino- The Giant Killer of Spanish Football
If the Johan Cruyff era dominated the dominance of Barcelona in the subsequent decades, then Italian defensive masterclass dominated the era before that. Pep Guardiola took the baton of possession-based football forward and dominated the Spanish and European football for quite some time. But Jose Mourinho brought back the potion of Italian football. After a successful and controversial spell with Chelsea, Mourinho moved to the holy nation where defensive football took birth.
It was 2010. Pep's Barca was at the top of their game, playing a style of football never seen before. A cosmic style of game that might never be emulated. Mourinho's Inter came overcame the era of that football. Mourinho took the antic of that to Real Madrid and installed his own style which lasted almost a decade and earned them 4 Champions League titles in a decade.
Read More: Jose Mourinho- footballing eras and how he ended the dominance of Pep's Barcelona
But things were changing. The Heavy Metal Football of Jurgen Klopp decimated the Real Madrid of Jose Mourinho on two occasions in the Champions League. That was the first time when Europe saw something new. Something opposite of what Pep's Barcelona demonstrated. It was a middle school of possession and space dominating football with acute syndromes of defensive brilliance. Jurgen Klopp went on to play his brand of football in the coming years and won many accolades. Thomas Tuchel has the same hierarchy as Jurgen Klopp.
They both belong to a school of German thought. The new brand of coaching school in German education developed a new identity. It has elements of both schools of thought- the possession-based football that took birth in Spain and Defensive football that took birth in Italy.
Jurgen Klopp, Thomas Tuchel, Andrea Pirlo, Hansi Flick, Zinedine Zidane, Julian Nagelsmann, Brandon Rogers are some of the examples of modern coaches who had the experience and knowledge of three-decade of the evolution of football.
Thomas Tuchel, the current boss of the Chelsea football club, is expected to bring the excitement of a new footballing identity to Chelsea. With signing of numerous top talents in Europe, Chelsea is looking at a generational overhaul. Who better than a German coach to lead that evolution. German coaches are known for their adaptability and flexibility in developing raw talents. Thomas Tuchel has a strong player developmental profile to back that statement.
Tuchel on youth development — Young players need to face obstacles and come up with solutions to truly develop as players. Not everything should be taught or handed out on a silver platter.

pic.twitter.com/rGtAKczRGZ

— ExpectedChelsea (@ExpectedChelsea) January 26, 2021
His time at PSG give a nice sample size to analyze his gameplay.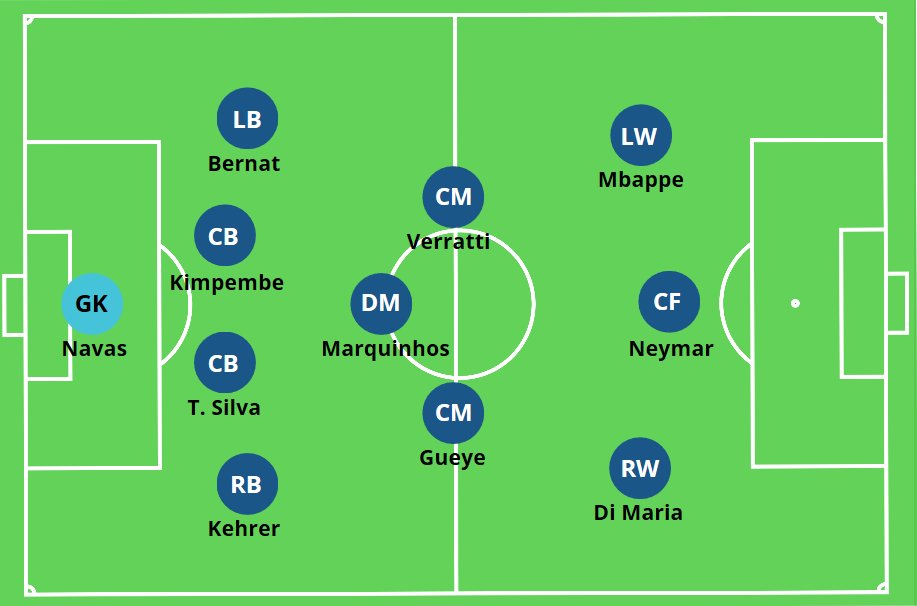 SYSTEM OF PLAY: 4-3-3
---
Although Thomas Tuchel has often opted for the formation of a weird 4-2-2-2 – the German manager has favored a more traditional 4-3-3 in their Champions League run-in. In the league, he had the breathing ground to explore his style. He experimented with various formations but stick with the 4-3-3 in Champions League games with very precise and defined roles. Defined roles helped them to qualify for the finals for the first time in PSG's history. The roles were defined based on the space they were given. Bayern Munich decided to drop back and cut lines in the finals, which stopped PSG from winning the final. But when Dortmund, Atalanta, and RB Leipzig gave them space which they exploited it with maximum proficiency.
Out of their ten matches in the competition, PSG has utilized the 4-3-3 system a total of seven times – making it Tuchel's undoubtable favorite. Their only loss in the competition came at the hands of Dortmund when they abandoned their traditional values to match BVBs 3-4-2-1.
ATTACKING FLAIR
---
Before Ligue 1 was shutdown with 11 matches to go, they scored a total of 75 goals. 50 were classified as strictly from open play, but they also bagged 5 from "counter-attacking" situations (the most), 10 from set-pieces (2nd most), and 6 penalties (the most).
PSG favor the left-side (41%), compared to the middle (29%) and the right (30%). They do however attack down the middle more than any other team in Ligue 1, and unsurprisingly find themselves in their opposition's eighteen-yard box far more than any other team in the league.
In UCL play, the only major difference is their relative struggle and patience to get into the opposition's third. They've spent only 24% of their time on the ball in there, the joint 9th-lowest out of the 32 teams. This is despite boasting the 8th highest possession stats.
NEYMAR DROPPING DEEP & BALLS OVER THE TOP
---
A role that Luis Enrique exploited at Barcelona with Neymar. This eventually turned Neymar to be the so-called successor of Messi, which of course never happened. Neymar's eagerness to drop into the midfield creates a diamond shape for PSG to use in possession.
With the center-back's already frequently engaged around the half-way line and the smart movement of players like Verratti and Paredes to drop in deep at the right moment and pick up the ball, PSG is well-positioned to play both forwards, horizontal and diagonal passes.
Paredes and Verratti are particularly adept at playing balls over the top. Since both operate on the left for PSG, it's obvious not only why Tuchel's side favor attacks down the left, but why Neymar also frequently drops deep more toward that side.
By Neymar dropping deep, the opposition defense may also be tempted to play a high line. But with the speed and attacking threat that Mbappe poses further forward, PSG can play dangerous balls over the top from midfield and find Mbappe into space behind those high lines
PRESSING FROM THE FRONT
---
PSG implement a high-pressing system, forcing their opposition to one side of the field and not letting them escape. At times in the press, the front three can be found all on the same side, making it near impossible to play out. They don't usually maintain a Highline but enough to be called aggressive pressing.
In fact, the aggressiveness of their press forced Leipzig into giving up a goal in their 3-0 semi-final win. RB Leipzig didn't expect PSG to press that ferociously in a Semi-Final tie. PSG did press and earned an impressive 3-0 win against Leipzig. Leipzig was one of the most press resistant teams in that competition who even overcame the jaws of Atletico Madrid. But with a team as talented as Bayern Munich at playing out from the back, this could be a risky approach with all three forwards coming over onto the same side. So, their approach changed in the final and deviated from their main course of tactical identity. Eventually, they lost the final.
SWITCHING PLAY & PLAYING OUT FROM THE BACK
---
Although typically favoring the left, the Parisians are adept at switching play from side to side. In the build-up, Marquinhos will often drop in between the center-backs, with the left-sided central midfielder usually joining him.
The addition of one central midfielder dropping in alongside Marquinhos makes PSG a unique outfit in regards to building out from the back. But it's actually something that Thomas Tuchel has been doing for years, most notably at Borussia Dortmund.
The constant movement inside of the wingers can also provide PSG with a mechanism to disrupt defense. With these inside runs and the occasional movement in deep to pick up passes, the opposition's defense often has to change shape.
Further, with the intelligent runs forward of a player like Ander Herrera or the fullbacks, the constant inside runs certainly aid in PSG's ability to break opponents down, open up new avenues and exploit those wide areas. Herrera's inspirational performance against Atlanta earned Tuchel a point for his exceptional tactical understanding.
INSPIRATION AND BRAVERY
---
PSG was a team full of superstars. But they always fell short in their UCL campaigns. But this time around it all tuned. Thomas Tuchel installed a mentality and belief that they are worthy of winning a Champions League. The belief was more important than any other aspect of the game. If PSG had the belief, they wouldn't have bottled a 4-0 advantage against Barcelona. Thomas Tuchel developed the mentality of giving preference to fine details like winning ground and ariel duels in the midfield, the timing of the inverted runs of the full-backs, always putting an extra body in the midfield, and integrate a system where even the stars like Neymar, Mbappe would help in defensive duties.
---
---
More news from Anuran Haloi